Treasures
THE FISCHER CIBORIUM
This silver ciborium was commissioned by the sisters in 1879. It was crafted by the prominent Geelong silversmith Edward Fischer. Born in Vienna in 1828, Fischer arrived in Victoria in the 1850s and by 1857 had established his business in Geelong. Although demand for his work was initially slow, by the 1860s Fischer's reputation had grown and he began to receive orders for items such as jewellery, tableware and ecclesiastical items as well as presentation pieces.
One of the most important commissions for Edward Fischer was for the Melbourne Racing Club. From 1861 when the first Melbourne Cup was run, a trophy made in England had been presented to the Cup winner. With the increase in population and circulation of money created by the gold boom, there was a rise in patriotic feeling and identity and the Melbourne Racing Club decided that a locally made trophy would be more appropriate. In 1865, Fischer received the commission to design and manufacture the first locally produced Melbourne Cup.
With the honour and prestige this commission accorded to Fischer, he received many more requests for trophies from various sporting clubs throughout Geelong. The most significant in regard to his reputation was the commission to produce the Geelong Cup. For more than a decade Fischer designed and produced the Geelong Gold Cup, with shapes varying from richly engraved claret jugs and champagne glasses to more plainly decorated urns. All proved popular with the public.
As well as manufacturing high quality silver and gold items, Fischer's shop also functioned as a watchmaker's shop with "every description of repairing done to all articles which come under the notice of the goldsmith". The public was also invited to inspect his premises and workshop, with the effect that his business became a household name in Geelong.
In 1891 however, Fischer sold his business and moved to Melbourne, opening a shop in Collins St with his son Harry. By 1904, Harry was running the business solely until 1916, Edward Fischer died in 1911.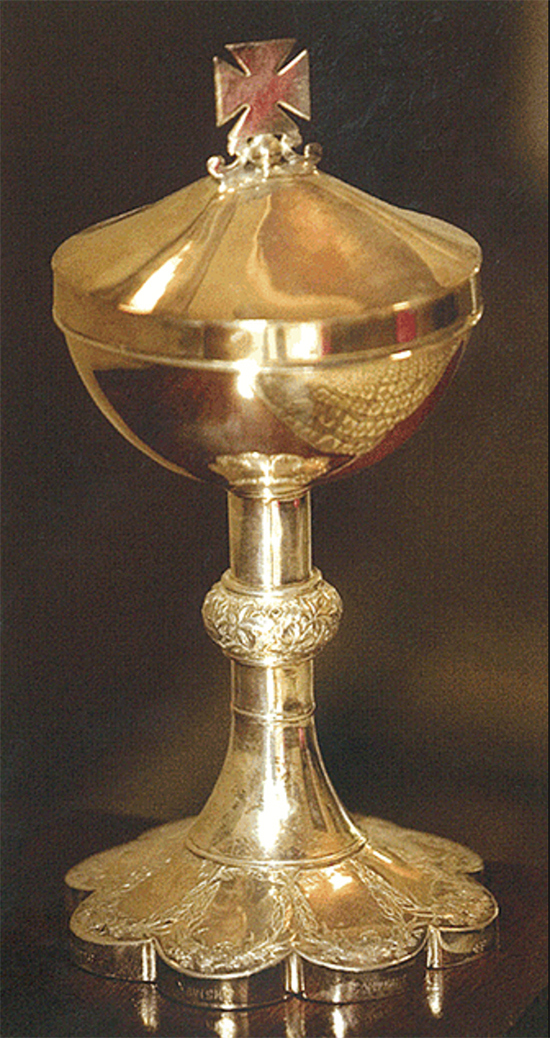 THE ANGELS
In 1905, Mother M. Evangelist Doogan, then Superior of the Newtown Convent, comissioned William Tappin of Reid Smart and Tappin to paint and beautify the sanctuary. Tappin engaged Estonian craftsman Jaan (John) Kannuluik to carve and build a a Gothic style high altar of English oak. The Advocate gave a glowing account of the work and claimed "the altar is a veritable triumph of the wood-carvers art". Installed in the altar were six beautiful hand painted oil panels of angels. The panels were removed from the altar in the 1960s when the altar was remodelled after Vatican II. For more than 50 years it was thought the angels were lost but they had lain hidden on top of an old cupboard on the upper floor of the old Convent.
The angels were found - or chose to be found - the day the Chapel restoration was completed. The angels have been rehung in the newly created narthex outside the Chapel doors.