In 2022, I was approached by former staff member Dr Gillian Turner looking for some capable Year 7 writers to be part of a Youth Arts Project to take place at the Geelong Gallery in September. 'Reconnection' was an initiative of 'Music at the Basilica Inc.' and looked to allow various forms of the Arts to come together and perform/present after the Covid enforced shutdown of the last two years.

I chose two talented young writers from each of my Year Seven English classes and met with the students and Dr Turner at the Geelong Gallery one Sunday afternoon in July. The students were given time to explore the gallery and choose a piece that they would respond to in writing with the idea to present their pieces later in September. After drafting their pieces, the girls met regularly with Dr Turner and myself, editing and rehearsing the presentation of their work.

On Sunday September 18, the girls presented their pieces, supported by the Sacred Heart College String Ensemble. It was a magical afternoon as the girls shared what they had created, inspired by their chosen images.

Thank you to the many parents, patrons and staff who attended and supported the girls. Below is a selection of their writing pieces and the artworks that inspired them. Thank you to Dr Turner for the invitation to be part of such a rewarding project.

Carl Tracey, English staff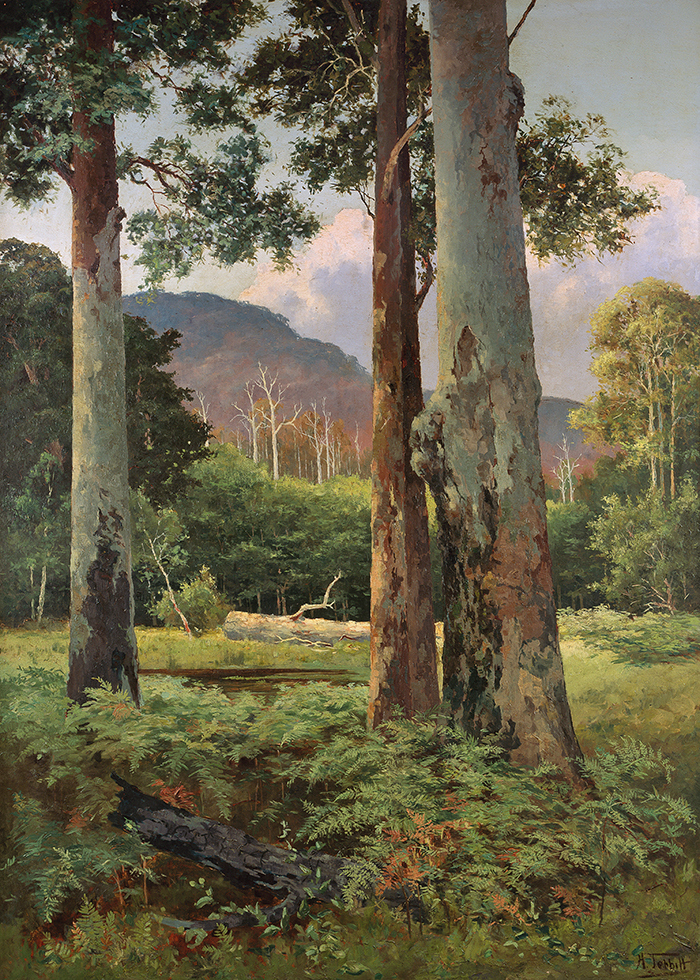 'Old Australian Giants' by Henri Tebbit
Ava Howie 7H
The artwork I chose is called Old Australian Giants by Henri Tebbit. I chose this artwork because it reminds me of happy memories of my cousins and I at Halls Gap when we ran through the mass of trees that surrounded our cabins. I call my piece, 'In a place out of time'.
In a place out of time Long ago
Stood a tree
taller than all the trees
The trunk was thick as an elephant Its emerald leaves glittering
A breeze blew a seed off Spiralling to the ground A bird came and took it Sharp talons attached
Many mountains were crossed
It landed in grassy plains Earth, stone and water covered it A sapling was born.
Many suns and moons passed The new tree stood tall
Its canopy spread wide
Time elapsed White man came New sounds
Whack
The forest fell
a resounding thud echoed Homes to be made
Homes had to be destroyed
A seed blew away The gust taking it far It landed
It grew knobbly and wonky
Man wanted more, Trees fell
Knobbly and wonky No good
Left there
It was so imperfect that it was perfect
In a place out of time Long ago
Stood a tree
Lily Mulroyan 7H
Lily also chose the same artwork as Ava, but her inspiration was the golden frame around the artwork:
Waiting for sun
The golden frame
Reminds me so much of Dino's mane
The burnt log and long, tall trees making mountains in the background
The golden, early morning sun shines on one side of the tree leaving the other waiting for light
Almost all of the shades of green and brown are spread all over the landscape
And leaves from the summer before lay there burnt and dry
Tall ferns and grass making you feel like an ant
An Australian national park waiting for the sun.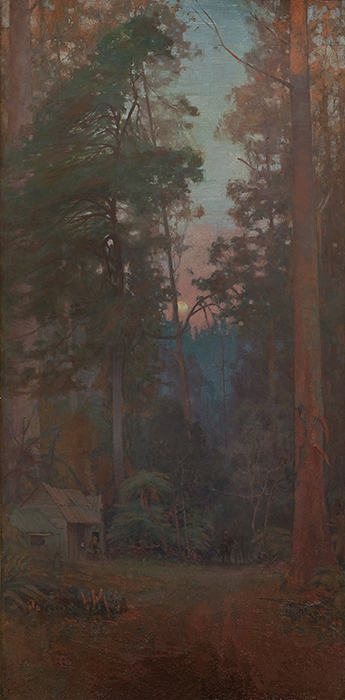 'The Dawn of Night' by John Ford Paterson (1896)
Piper Black 7I
Piper was inspired by the painting The Dawn of Night by John Ford Paterson (1896) for her short story of the same name.
The cabin was rickety and old, mould regenerated on its external timber walls.
No one ever came to visit as we were too deep in the forest.
It was only Grandpa and me...the woods were all I knew!
……….
Green trees thrived in the swampy ground… and mushrooms grew all over the fallen log that lay in the marsh…It was beautiful!
……….
For years I had lived according to one rule, NEVER LEAVE THE CABIN AT NIGHT!
Grandpa always had good reasons for everything he said, so I had no reason to disobey him. But sometimes I felt lonely.
It was like 'THIS LIFE' was too little!
……….
Curiosity got the better of me early one evening. Just after the warm sun had disappeared over the hills, I tossed and turned in my bed. How could I sleep without knowing what was out there
in the darkness?
I then made my decision!
Peeking inside to check if Grandpa was asleep, I could see the room was largely empty, except for a tall cupboard and bed that hosted a lump covered with blankets…Grandpa.
'Step outside' I whispered to myself, 'No harm done!'
……….
My only desire was to explore. The moon, the shadows, the darkness.
Grabbing the door handle, I breathed deeply, preparing myself.
I closed my eyes and all at once I twisted the handle, opened the door and stepped outside. A frosty bite greeted my skin and it was deathly quiet.
………
The fresh smell of forest rain entered my nose and I laughed in delight. How could Grandpa have not shown me this?
Even without sight, it was magical. With anticipation, I opened my eyes. The tall trees that I thought I knew so well cast murky shadows on the floor. They were strangers, as was the sky.
Instead of the bright blue that I was so used to, red and purple hues were painted above me. No clouds interfered with the enchantment.
……….
I turned whilst still looking up. I stopped dead.
It was everything I had dreamed of.
I had never seen the moon before but I instantly knew that THIS was it.
It gave off a silvery light, making the atmosphere dreamy and mysterious. It wasn't perfect...
Shadows freckled its surface but I didn't mind. It bewitched me.
……….
The forests' power was pulling me in. Slowly, I took more and more steps off the deck until my bare feet hit the undergrowth.
Grandpa would be furious but the night was so alluring.
……….
In no time at all, I was surrounded by trees. I did not know that I had travelled so far. It was as if an invisible voice had guided me more and more into the depths. And the feeling around me had
changed. The world was different when it was dark.
No warmth to make me feel at home. No daylight to show me safety. Only the sharp edges of the woods.
……….
Strange noises hidden in the night increased my growing fear. My initial wanderings became more purposeful. I was trying desperately to get back to Grandpa.
But the further I went the more lost I became.
……….
I don't know when I started crying.
All I knew was that tears made my cheeks soaked and my eyes puffy.
I cursed my curiosity. A twig snapped to my right and I sucked in a breath.
I turned my head to the sound. Despite still being watery-eyed, I could see that nothing was there. Nothing but forest.
Am I going mad?
……….
A waving branch drew my attention to a large eucalyptus tree, so close it was overwhelming.
The tree appeared to have a face. It was pained and tortured, seemingly crying for help.
This was my tipping point. I screamed and ran furiously. I had to get away.
……….
Running and running and running until my legs could no longer bear it.
I collapsed.
I knew then that I would never return home!
The woods would continue to engulf me.
……….
I quietly sobbed…driven to insanity!
I should have stayed with Grandpa!
……….
With a final push, I looked around, willing something that I remembered to appear.
But the colours were dull, only shades of grey.
Except THERE!
Next to what appeared to be a raspberry bush, was a pair of glowing, red eyes.
I tried to run but my legs would not obey.
The eyes grew into an animal which showed in the moonlight.
Hunger was written in its body language; the giant wolf licked its lips.
My scream echoed through the night.