MAKE A DIFFERENCE
As outlined in its Charter, the Sacred Heart College Alumni Association commits to: Continue to demonstrate and promote the mercy ethos through all Association activities and maintain the Association's connection to the Mercy Community. (Feb 2013)
The Alumni Association encourages its members to be active social justice advocates in the community and is pleased to accept notifications of work being undertaken by its members in this area and to consider applications for support of events and fundraisers that support the Sacred Heart College vision for social justice.
SCHOLARSHIPS
Sacred Heart College and the Alumni Association is committed to supporting families in need and offer a range of equity scholarships to assist with tuition fees. Equity scholarships are offered to students at all years levels and are awarded for the duration of a student's time at the school if it is needed.
One of the first activities of the Old Collegian's Association was to set up a bursary fund - this continues to support students today through the Alumni Association Scholarships. These scholarships are provided by the Alumni Association and are awarded to students for Years 7 - 12 and provide $1000 fee relief.
Equity Scholarship Program
As the largest Catholic girls' school in Geelong, we continue to uphold the vision and guiding principles of our foundress, Catherine McAuley. Catherine believed in the education of women. She appreciated the unique contribution they were capable of making on behalf of society and she wanted to empower them ­– in whatever sphere they found themselves ­– to affect a shift towards a more just society.
Celebrating 160+ years of Mercy education, Sacred Heart College Geelong still seeks to provide greater learning opportunities for those in need through our Equity Scholarship Program.
For further details regarding the College's scholarship programs, please contact Ebony Courtney, College Admissions Officer on 5222 0490.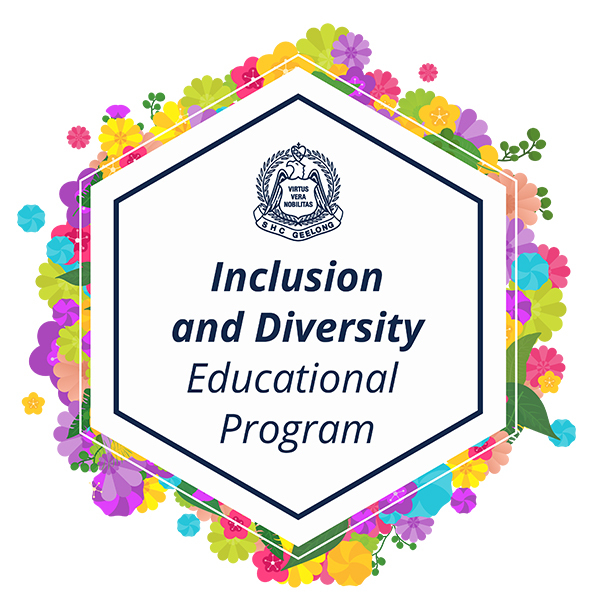 To ensure our school promotes an inclusive curriculum that reflects the cultural, linguistic and religious diversity of Greater Geelong, we have developed a new Inclusion and Diversity Scholarship program.
Inclusion and Diversity Scholarship Program
For refugee families, experiencing a new country and culture and understanding the education system can be very challenging. In fact, it is often the primary barrier to student learning.
The College's new Inclusion and Diversity Scholarship program welcomes, enables and supports refugee children to learn in a nurturing environment. Opportunities are now available for refugees to apply for a fully-funded scholarship that will allow them to explore cultures and beliefs that may be different from their own.
The scholarship provides:
Personalised transition programs
Pastoral support groups for students and their families
A new arrivals' program that offers intensive English as an Additional Language (EAL)
Social/emotional learning programs, counselling, mentoring and 'buddy' supports as well as refugee family engagement.
For further details regarding the College's scholarship programs, please contact Ebony Courtney, College Admissions Officer on 5222 0490.


THE CECILIA CIRCLE
This year, the College was pleased to launch its new bequest program - the Cecilia Circle.
Named in honour of our school's foundress, Mother Mary Cecilia Xavier Maguire, the bequest program was established to recognise, acknowledge and thank our community members who name Sacred Heart College as a beneficiary in their Will.
The College was also pleased to announce the Poynton family as the patron family of the Cecilia Circle.
The connection and support that the Poyntons have provided to the school over their 100-year association makes them a shining example of the true effect that the impact of gifts such as those given to both Catherine McAuley and Mother Xavier Maguire can make - a real and lasting difference to people's lives, through education, care and service.

For a brochure on The Cecilia Circle, please click here.


DONATE
You can make a difference by donating to the Scholarship Gift Fund. Please help us to make a difference to the life of a child in need at Sacred Heart College. Money donated to the fund is used directly to help families in need buy uniforms and schoolbooks, to send children on excursions, to buy school lunches and to help with tuition fees.
If you would like to donate please contact via email alumni@shcgeelong.catholic.edu.au or 03 5221 4211.



EVENTS
Come along and support the events of the Alumni Association which contribute much-needed funds to several charities in the community. You can make a difference by attending these events and showing your support.