This year saw our students run the picturesque cross-country track around our school grounds on Wednesday 25 May. All Year 7-10 levels took part, whilst Years 11-12 students volunteered to do so.

The day presented beautifully sunny conditions which made for a true cross-country event. Thank you to all staff and assistants who helped and supported across the day.

Those who finished in the top 10 in Year 7-12 received 1 individual house point. Our spot prize draw for many prizes after medal presentations for each year level enabled students who crossed the line in the first 100 to be eligible for a prize. Hopefully this added to the fun and physical activity for all competitors.
Congratulations to all who completed the 3km course either running or walking.
Top 10 for each Year level were as follows:
Year 7

Year 8

1. Mac Allen

2. Bella Leahy

3. Emmy Smith

4. Tilly McBain

5. Violet Duncan

6. April Boyd

7. Lilly Humphrey

8. Lucy Potter

9. Lucia Stephens

10. Ally Croft

1. Isla Bradshaw

2. Isobel Rose

3. Minka Pestkowski

4. Sophie Jordan

5. Goergia Maier

6. Evie Albones

7. Evie Grgic

8. Elleischa Sizer

9. Alice Christian

10. Alexis Hoskin

Year 9

Year 10

1. Juliette Downes

2. Jamie Flanagan

3. Emily Soppitt

4. Isobel Wrochna

5. Maggie Clatworthy

6. Zoe Morrison

7. Charlotte Iles

8. Zoe Naughtin

9. Leni O'Meara

10. Neve Van Der Sant

1. Jasmin Bajada

2. Emma Ward

3. Greta Jones

4. Olive Butcher

5. Sienna Carlini

6. Laynie Young

7. Kate Korolis

8. Asher Bayles

9. Ava Wilson

10. Sophia Gallos

Year 11

Year 12

1. Hannah Brady


2. Hayley Hunt

3. Sophie Adams

4. Stephanie Giess

5. Bianca Pollard

6. Caroline Berg

7. Eleanor Naylor


8. Jessica Hamilton

1. Emer Oxspring

2. Lily Gallagher

3. Lillian O'Brien

4. Lana McLachlan

5. Eliza Ahearn

6. Kaitlyn Bird

7. Greta De-Bie



| | Overall HOUSE Point Totals: |
| --- | --- |
| 1st | Siena 5867 |
| 2nd | Padua 5769 |
| 3rd | Loyola 5130 |
| 4th | Clairvaux 4755 |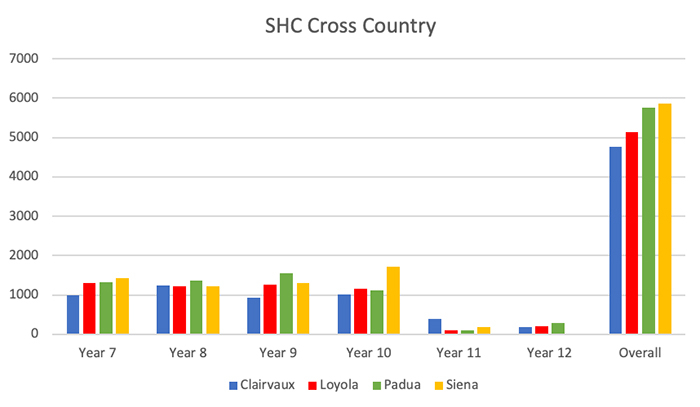 Bianca Cheever, Sports Coordinator